Carpet | Pad | Installation | LVP | Hardwood | Tile | Forms | Dealers
Choosing New Carpet and Flooring
Welcome to my website! I'm Alan Fletcher, aka The Carpet Professor, a 30-year veteran of the Carpet business. I am retired and no longer sell or install flooring. My mission is to help educate and inform homeowners about how to Choose New Carpet Wisely, How to save the most money possible and keep from becoming the Victim of a Carpet Scam!
Shopping at home for new flooring?
For those who dread the task of searching for a reputable flooring store, you'll be delighted to learn about the shop-at-home carpet and flooring services that may be available near you. In-home consultations allow you to get your purchase right the first time with an expert helping hand, without ever having to leave the comfort of your home. Learn about the four advantages of using a shop-at-home service for your next carpet or flooring purchase.
Four Benefits of Shopping-at-Home
Receive the ultimate in convenience with at-home services from reputable locally-owned carpet and flooring stores.
Here are 4 advantages of inviting the store to your home.
1. Unbeatable Convenience and Comfort.

Everyone enjoys convenience and comfort when it comes to home improvement projects, right? With shop-at-home carpet and flooring services, these 6 words are never more true. Instead of having to find time to visit several stores in your spare time, a salesperson will bring a selection of samples right to your door. You can take all the time you need to pick and choose the best flooring products for your needs and goals without even having to leave your couch.
2. Expert Advice from Experienced Professionals.

By working with a professional from a locally-owned flooring store, you can be sure that you're receiving advice from experienced experts. Having been in the industry for years, their practical knowledge will help provide you with all the answers to your flooring questions. They also understand how materials hold up in different situations and how to ensure that you get the kind of look and finish that you desire. This also prevents any costly mistakes, as they can recommend the materials that are best suited for your application.
3. No Gimmicks or Pressure Tactics – Just an Honest Evaluation.

Going to a big store can often be like walking into a casino – you're met with bright lights, slick sales persons and the risk of being hustled. In fact, many customers find themselves feeling annoyed and taken advantage of after they leave. With shop-at-home services from your local carpet and flooring store, this experience is entirely different. The salesperson will arrive prepared to answer any questions you have without any hidden motives or reasons for attempting to up-sell you on anything unnecessarily.
4. Easily Compare Prices for Different Flooring Types Before Committing to Buy.

With traditional store visits, you may find yourself buying before having a chance to consider all options and compare prices. But with shop-at-home services, you can get get several bids from different flooring companies. Then you can easily compare products, prices and services before you commit to buying anything. This allows more time for negotiation and helps you find the most affordable option that still meets your needs, goals and lifestyle.
Beware of Copy-Cat Carpet Information Websites
You only want to read honest and unbiased carpet and flooring information. That's what I provide to all my readers. There are many carpet information websites on the internet today, but most are not worth reading as they are in the business of selling flooring. This means they will only tell you the good points and conveniently leave out all the bad points. Before you can make wise choices you need to know all the facts, good and bad.
Shop-At-Home Risks
When a carpet retailer brings samples to your home for you to view and consider, this is called in-home carpet shopping. In-home carpet shopping is growing in popularity but also has certain risks that you need to be aware of, and that is one reason why I created this website.
Many homeowners fall prey to carpet sales scams every day. When a salesperson comes to your home to show you carpet or flooring samples, you should not blindly trust the salesperson, and you should never buy from the salesperson on his or her first visit. You need to take time (a few days) to VERIFY everything the salesperson has told you before you agree to sign on the dotted line! You also need to make sure the material prices and installation costs are reasonable.
Don't believe everything you read online or hear from a salesperson about the quality or durability of a particular carpet. You must consider the carpet specifications. This means you have to ask for the carpet specifications from the dealer or salesperson PRIOR to making your final choices. If they do not provide them for you, then you have no way of knowing if the carpet is capable of tolerating your level of foot traffic you have in your home.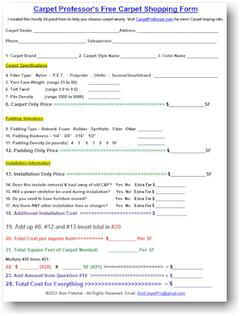 This form is designed to help you make wise and informed choices. It will help you compare the specifications of any carpet and padding you are considering. this form will make sure you ask all the right questions.
It will also help you compare the total project cost for the Carpet, Padding and Installation. There are questions to help uncover any potential hidden fees and charges.
Print up several forms and fill them out as you shop. Use one form for each carpet sample you would like to consider. This will help you narrow down the best carpet that can meet your needs, goals, lifestyle and budget.
TV Ads by Lowe's, Home Depot, and Empire Today?
Huge discounts on new carpet and flooring? Two rooms for the price of one? Half off new carpet, flooring and free installation? Are you reaching for your phone to call them right now? Wait!
Buyer Beware! You've heard the old adage: If it sounds too good to be true... There are a few nationally advertised Carpet and Flooring companies that constantly offer incredible sounding deals, incredible discounts and unbelievable specials and even next-day installation. Some even offer a shop-at-home service. I believe these dealers should be avoided at all costs.
When it comes to buying new carpet, flooring and installation... you usually get what you pay for, however, many homeowners fall prey to unscrupulous sales gimmicks and sleazy sales tactics. Why should you avoid doing business with any nationally advertised Carpet and Flooring conglomerates?
1)They typically use strong-arm sales people, 2) They often hire poorly trained installers, 3) They often sell inferior products and they hope to get away with over-charging you for materials and labor! Not only that, but when you have a serious problem or complaint... Well, you can guess what happens when you call to complain...
Buying Carpet from Costco, Abbey or Empire
These are three conglomerate companies that quickly come to mind when thinking about carpet. From my experience, they all use private labels on their products to confuse you and make comparison shopping nearly impossible, they tend to push Polyester and P.E.T. Polyester carpets (prone to matting and crushing of the pile) and are reluctant to provide you with a complete set of Carpet Specifications.
Costco just refers your carpet query to another flooring retailer and then takes their cut of the profits right off the top of your purchase. They may give you a gift card as an incentive, but in the end they make a handsome profit just for their referral. Be super careful if you plan to buy flooring from any of these not-recommended shop-at-home flooring retailers. I always suggest getting at least three estimates from locally-owned flooring dealers.
Lowe's and Home Depot Carpet Installation Specials
These Two Big Box Retailers don't offer Shop-at-Home carpet or flooring services, but they do charge a hefty fee for in-home measuring, (they contract out to other companies to do their measures) and they like to make darn sure there is WAY more than enough carpet or other flooring materials to complete the job!
This usually means you will be paying for more materials and more installation costs than is necessary to get your job done, (and they also contract out all their installations to other companies). Learn the truth about their Free Carpet Installation Specials or their latest TV ads offering carpet and installation specials.
Learn more about the Best & Worst Places to Buy New Carpet
Common Carpet Scams and Rip Offs!
If you are considering scheduling a mobile shop-at-home service to bring samples to your home, there are a few important things you need to know to help protect yourself from being scammed, overcharged and sold the wrong goods or materials.
One thing you need to learn about "shopping for carpet at home" is how to not fall prey to high pressure sales tactics. For example, pushy salespeople may try to pressure you into signing a contract before you have a chance to comparison shop by telling you that the price quoted is a "Today Only" price.
Honest and reputable shop at home carpet retailers will not strong-arm you into buying right now. Sure, every salesperson would prefer you to buy from them right now, however, you need to make sure you take the time to comparison shop and get more than one bid or estimate before you make your final choice. You should always consider your carpet choices carefully and take a few days to compare prices, colors, styles and quality.
Not all shop-at-home Carpet Dealers are honest and reputable. There are dozens of Carpet Scams you need to avoid regardless of who you choose buy carpet from. So take your time, read all my carpet buying articles below and learn everything you can about buying new carpet before you visit any local carpet stores or have any carpet dealer bring carpet samples to your home.
How to Select the Right Carpet Durability
Even if you are able to avoid all the carpet scams you encounter, you still need to select the right carpet. If you choose the wrong carpet, it may not last as long as you expect. That's why I decided to create a simple Carpet Foot Traffic Test. My simple two-minute test will help you determine your level of foot traffic in your home and can help you choose the right grade or quality carpet that can meet your needs and goals. Print and use my free Carpet Durability Rating Chart to make sure you choose wisely!
Some carpets are rated by the manufacturer. Shaw uses what is called The PAR Carpet Rating System. This is where they assign each carpet a number from 1 to 5 that indicates the durability level of the carpet. I think this rating system is flawed and I don't recommend you rely solely on any carpet rating system to make your final carpet choice.
Best Carpet Selection - Choosing Wisely!
A common problem consumers face when buying new carpet, is choosing the right quality of carpet. Every homeowner has different needs & goals that need to be predetermined before a suitable carpet selection can be made. Some folks are retired or have no kids or pets and therefore may have light foot traffic. Other folks have heavy foot traffic from having large families with lots of small children, pets or active teenagers.
Each different home scenario requires a different grade or quality of carpet. I refer to this as "Carpet Durability". No matter what the circumstances, each and every home has very different needs and goals that need to be identified and considered very carefully before the proper carpet durability and quality level can be determined. And unless you consider all the variables and factors carefully, your new carpet will not last as long as you might hope. Read more: Costly Carpet Buying Mistake
How is Carpet Durability Determined?
Knowing Carpet Specifications is the key! If you are not familiar with carpet specifications then you should read more about Carpet Specifications. There are several carpet specifications that will help you determine if a carpet can handle your level of foot traffic. The main factors are:
Carpet Fibers
There are several different types of carpet fibers to choose from. For example; Nylon is known as the most durable fiber available today and is also the most expensive to manufacture. But not all nylon fibers are created equal. Some are more durable than others and some nylon fibers are made softer than others due to the diameter or "denier" of the strand. The thinner the fiber strand the softer the carpet will feel. But does a softer feel make for a less durable carpet?
Carpet Tuft Twist
When groups of fiber strands are gathered together and twisted they form into "Tufts" These tufts are inserted into the carpet backing to create various styles of carpet. When the tufts are twisted together they use heat to "set" the tufts - similar to how women use a curling iron to curl their hair. The number of twists formed per lineal inch is how they determine the "Tuft Twist" rating. Most plush style carpets have a tuft twist rating of 4 to 6. Frieze styles are known for having a tuft twist rating of 6 to 8.
Generally speaking, the higher the tuft twist rating the longer your carpet will retain it's "like new" appearance. This is because over time tufts may begin to lose their twist or "blossom", causing the carpet to gradually lose it's like new appearance.. Some carpet fibers are able hold their "twist" better than others and this ability is known as being more "resilient" Nylon is the most resilient carpet fiber available today. Polyester is typically known to be the least resilient carpet fiber which means the tufts will mat down quickly on stairs, hallways and in main walkway areas where there is medium to heavy foot-traffic.
What You Need To Know About Carpet Face-Weight
Carpet face-weight is the weight of the fiber that is used to manufacture the carpet pile. Face weights range from 20 ounces to 120 ounces and most residential carpets sold today have a face weight between 30 to 60 ounces. Generally speaking, the higher the face-weight, the more durable the carpet will be. But this does not always hold true. If the pile height is too tall, it may be more prone to matting and crushing. Depending on your level of foot traffic, you may need to limit the pile height and increase the face weight. This is what we call the "Pile Density" rating.
What You Need To Know About Carpet Pile Height and Pile Density
Using a mathematical formula we can take the Pile Height and Pile Face-Weight to determine the Pile Density rating. Generally speaking, the higher the pile density rating the more durable a carpet will be. This holds true more often when the Pile Height is not too high as to limit the potential for matting and crushing of the pile. Once the carpet tufts begin to fall over, crush and collapse the carpet will lose its like-new appearance. This is especially true with Polyester fibers and Berbers made of Olefin.
Some carpet fibers are more prone to matting and crushing than others. With nylon carpet, a good cleaning may help restore the tufts to their original upright position and allow your carpet to regain some or all of its like new appearance. However, carpets made from other fibers, like Polyester and PET Polyester my not yield the same favorable results. What is the best specifications like pile height and density rating for a carpet that will best serve your needs and goals?
Check out my free Carpet Durability Rating Chart. Use my chart to see what grade of carpet will meet your needs and goals based on their unique specifications. Every carpet has it's own unique manufacturing specifications.
Learn more: